Slovenian University Sport Association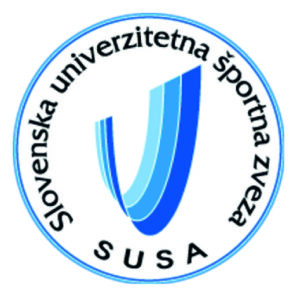 Slovenian University Sports Association
The Slovenian University Sports Association (SUSA) is a national sport federation of university sports associations operating at the level of three major universities in Slovenia: the University of Ljubljana, the University of Maribor and the University of Primoska.
SUSA is a young organization, founded in 1997. SUSA is a member of the Olympic Committee of Slovenia, of the European University Sports Association and of the International University Sports Association. SUSA is also member of national nongovernmental associations operating in Slovenia: Slovenian Center for Non-Governmental Organizations and Slovenian Philanthropy.
SUSA and her members take care of all extracurricular sport activities for students in Slovenia. SUSA mostly organizes sports competition for students at national level, takes care of the participation of students from Slovenia at the European university championships and games and at the World university championships and World University Games. SUSA's members mostly organize sports competition for students at university level, recreational sport programmes and sport courses for students at university level.
SUSA has a proud history of organizing international university sports events in Slovenia:
2002 – 2nd European University Basketball Championship
2003 – 3rd European Volleyball Championship
2005 – 2nd European University Beach Volleyball Championship
2006 – 16th World University Table Tennis Championship
2007 – 4th European Universities Futsal championship
2008 – 11th World University Futsal Championship
2009 – 4th European Universities Handball Championship
2011 – 2nd European Universities Golf Championship
2015 – 13th European Universities Basketball Championship
2017 – 11th European Universities Badminton Championship
2019 – 12th European Universities Brach Volleyball Championship
2019 – 1st European Universities Waterpolo Championship
SUSA is also active as a philanthropic organisation – organising students as volunteers at major sport events in Slovenia and helping organisation of sport activities offered by NGO in Slovenia mostly for socially disadvantaged.
SUSA is also active at Erasmus+ project cooperation level. We have participated in one Collaborative Partnership in the past and are participating in 3 Collaborative Partnerships at the moment and in 1 Small Collaborative Partnerships.